Vita.
Christoph Zohlen
Founder
...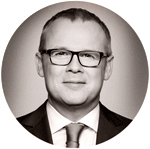 GRÜNDER UND MANAGING PARTNER VON RADIUS 1 CONSULTING
Christoph Zohlen ist Gründer und Managing Partner der Unternehmensberatung Radius 1 Consulting, die sich auf ganzheitliche Leadership und Business Transformation fokussiert hat. Er ist einer der erfahrensten Berater für Business Transformation, gilt als Vordenker für dieses Themenfeld und wurde als Global Business Transformation Master (GBTM) von der Business Transformation Academy zertifiziert.
Sein Handwerk lernte Christoph Zohlen bei Gemini Consulting, die Mitte der 1990er Jahre den Begriff "Business Transformation" weltweit prägte und als erste Beratung ein konsequent ganzheitliches Vorgehen entwarf und praktizierte. Seit über 20 Jahren berät Zohlen global agierende Großkonzerne wie Bosch, Deutsche Post DHL, DNV-GL, EON, Heidelberg, Linde, Lloyds Banking, Philips, SAP, UBS, Unilever etc. bei der Transformation ihrer Organisationen sowie ihrer individuellen Transformation als Führungskräfte.
Um diese Ziele zu erreichen, ist es zuweilen notwendig, bisher unbekannte Wege zu gehen. Die Berater von Radius1 bleiben hierbei an der Seite des Managements– und befähigen es, eine kontinuierliche Praxis der Transformation zu entwickeln. Sie greifen dabei nicht nur auf Methoden der klassischen Unternehmensberatung zurück, sondern nutzen und entwicklen auch alternative Ansätze und Techniken.
Zohlen war bis 2005 für Gemini Consulting (später integriert in Capgemini Consulting) als Principal und Practice Leader tätig. In Linienfunktion, als Head of Integration Programs integrierte er bis 2007 erfolgreich für die Halifax Bank of Scotland / Lloyds Banking Group 4 akquirierte Organisationen im Rahmen eines umfangreichen Post Merger Integration (PMI) Prozesses. Seitdem ist Zohlen als Entrepreneur und Gründer tätig.

Download PDF
Back